We asked members of the BuzzFeed Community to show us their sentimental tattoos and tell us why they got them. These are their beautifully wholesome stories.
1.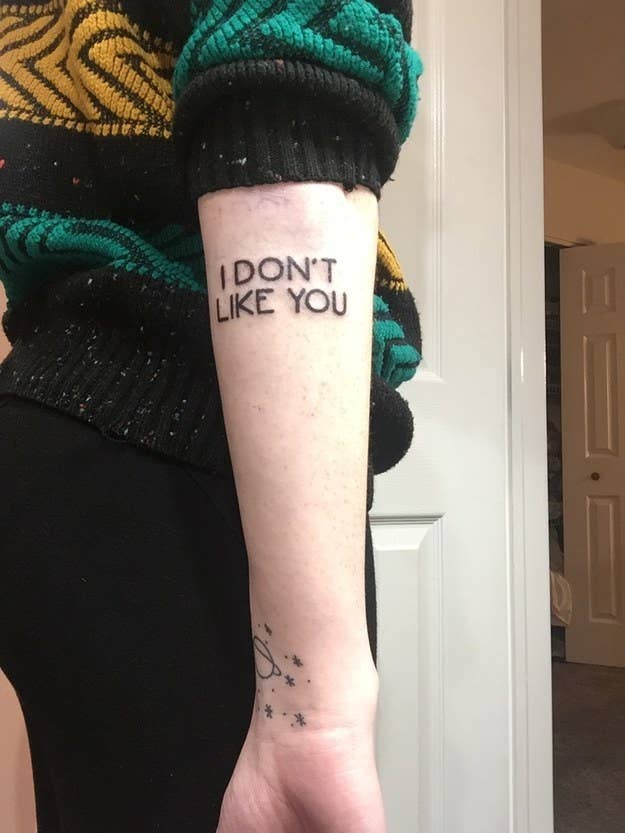 "When I was a baby/growing up, the song my mom would always sing to me was 'You Really Got a Hold on Me', the Beatles version. I got the first line of the song tattooed — 'I don't like you' — and she got the second — 'but i love you'. I love the way it's funny and stands on its own, while at the same time being so important and special to me." — Lex7d7
2.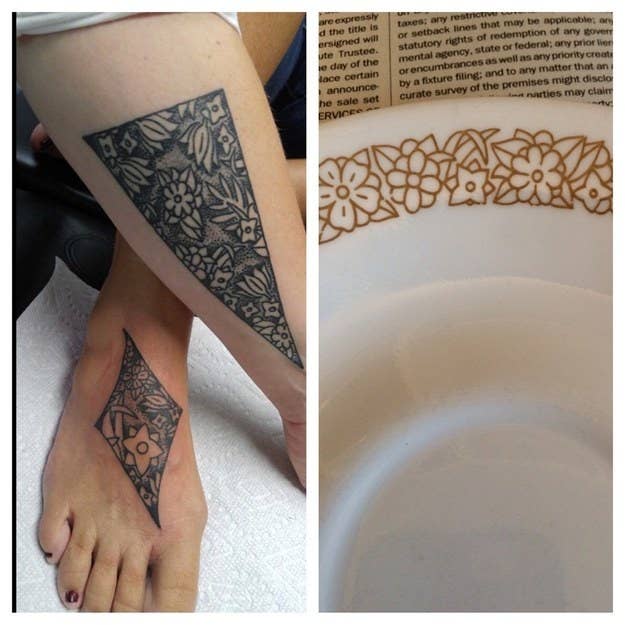 "My sister and I have the design from the Corelle plates we grew up with. Any time I'm homesick, or missing our Mom who passed in 2010, I can just look at my arm and remember all of us sitting around the table spending time together, being connected." — hebmike
3.
"My grandmother took care of me since I was born. She kept a journal of the first year of watching me with every movement I made! She passed away on my birthday this October and I decided to get a tattoo done in her handwriting. She always referred to me as "my little angel" in the journal. I was her's, but now she's mine." — emmaf45380552f
4.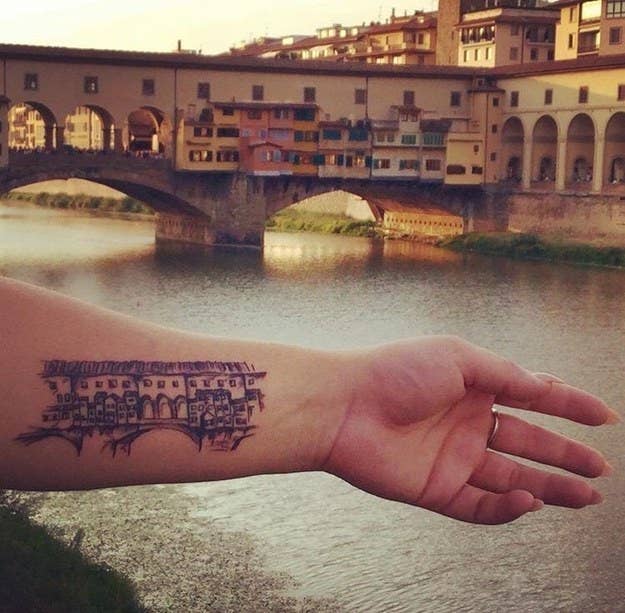 "I studied abroad as an Art Major in Florence and have visited a few times since. On my last visit I sat beside the Arno River and drew a sketch of the Ponte Vecchio, and got my sketch tattooed on my arm the next day. I love that my favorite city and a piece of my own art is always with me." — andread4378df17b
5.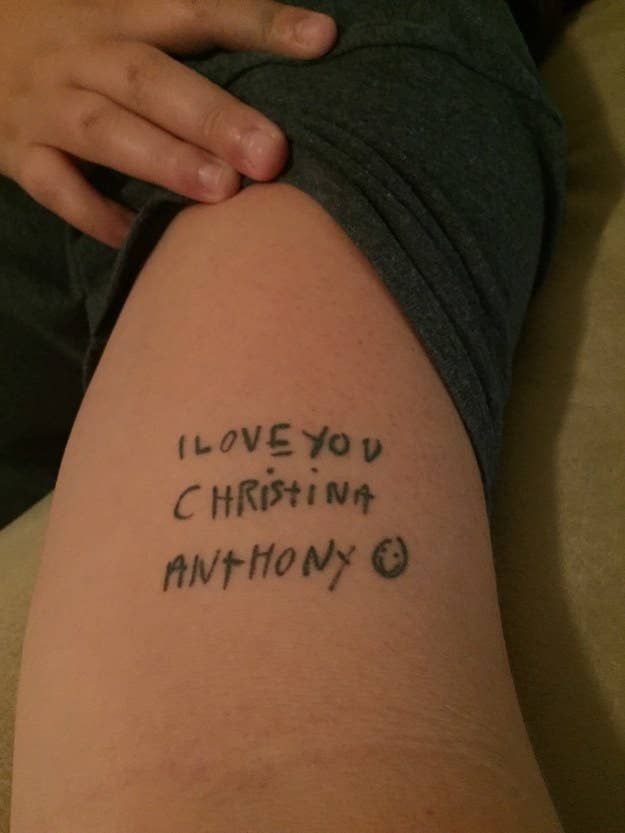 "My older brother has Down Syndrome and he wrote me this note when I went off to college. I got it in his handwriting as well. I've always said he's the only person's name I'd ever get tattooed on me." — christinav4fd89592d
6.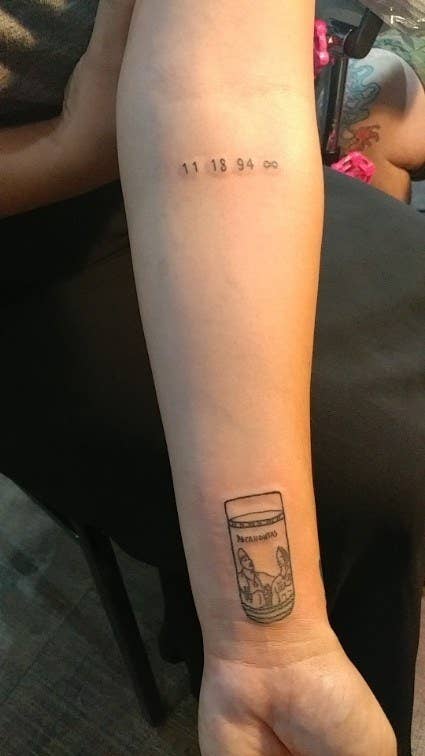 "My brother died unexpectedly very young. We always drank chocolate milk since childhood all the way into adulthood. We have specific cups we drink out of so I got his cup on my wrist. Now when I drink my chocolate milk it's like we're still drinking it together." — idalydtineo
7.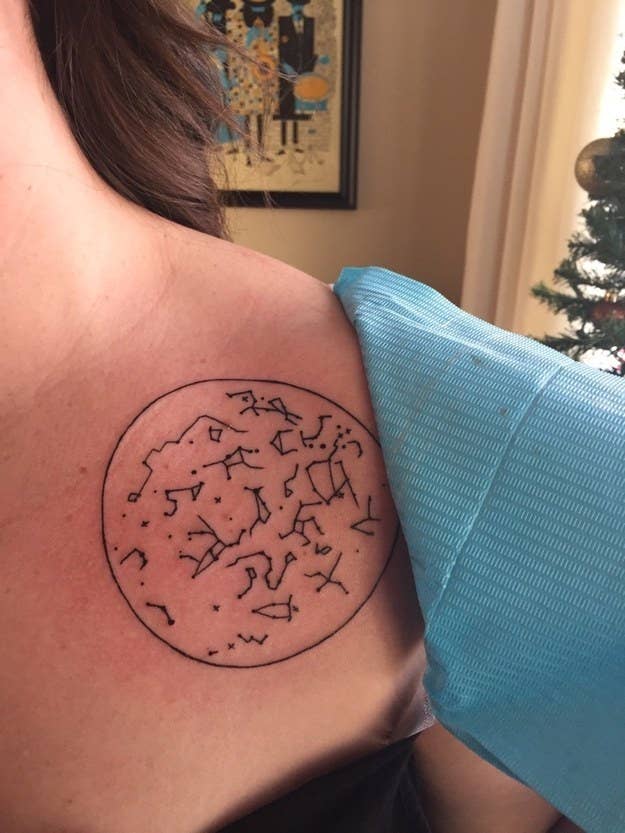 "This tattoo was a present to myself on my son's 2nd birthday. It is a star chart of the sky at the exact moment of his birth. He is a healthy and vibrant two year old, but his birth was traumatic for both of us and this tattoo was meant to honor how his birth changed me." — alexandraatwelll
8.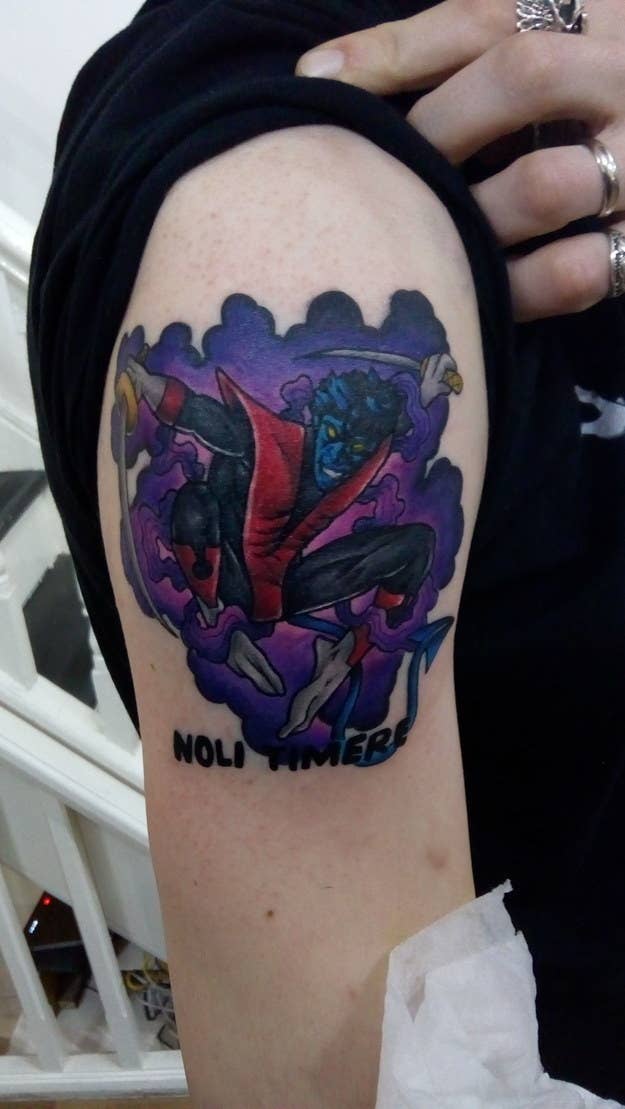 "I grew up thinking of myself as something of a monster. I never really fit anyone's idea of what a girl should be and it turns out that being non-binary probably had something to do with that. When I was living in the children's home, I discovered the X-Men through some very old comics that someone had donated. I immediately identified with Nightcrawler. He looks like a demon, but he's probably the kindest superhero out there. Basically, he's who I wanted to be when I grew up and (to an extent) that's still true. Getting this tattoo was a form of armour." — NoliTimere
9.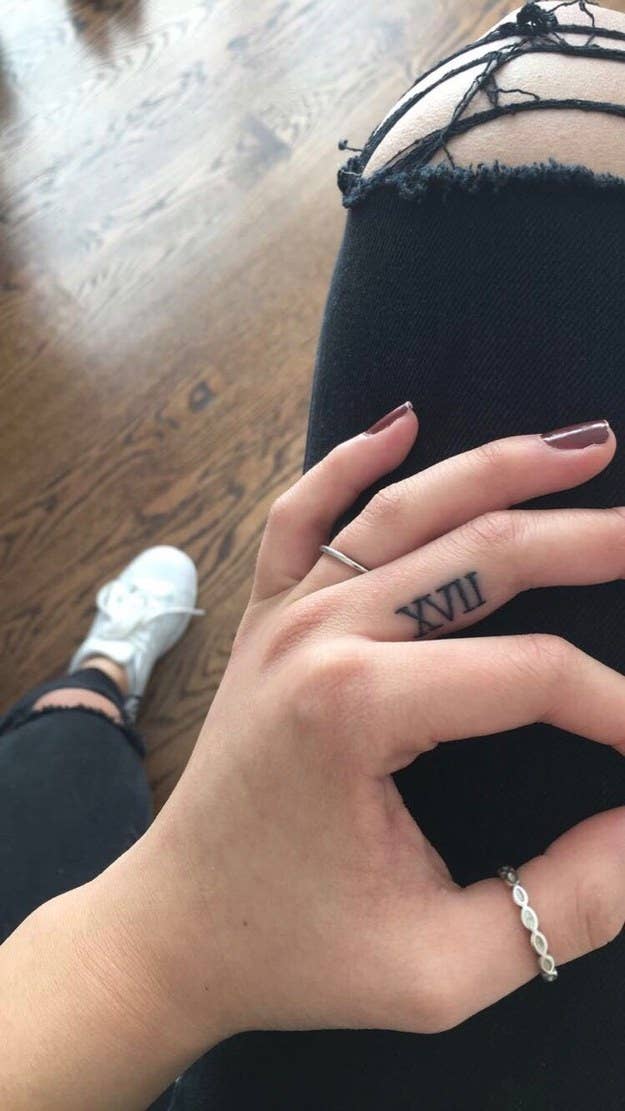 "I got '17' in Roman numerals last year, when I was 16. I am adopted and don't know much about my birth parents, but that my birth mother was 17 when I changed her life." — kelseyr4db83a9b0
10.
"A myriad of mental health issues have made simple tasks like getting out of bed seem impossible. This is a reminder that, in those impossible moments, getting up and "moving" is a quick way to feel better." — livvbit
11.
"A couple years ago my boyfriend decided to end his life. He left this note on our fridge chalkboard a couple months prior…I'm thankful I decided to take a picture of it. It's a good little reminder/memorial tattoo." — stephmt
12.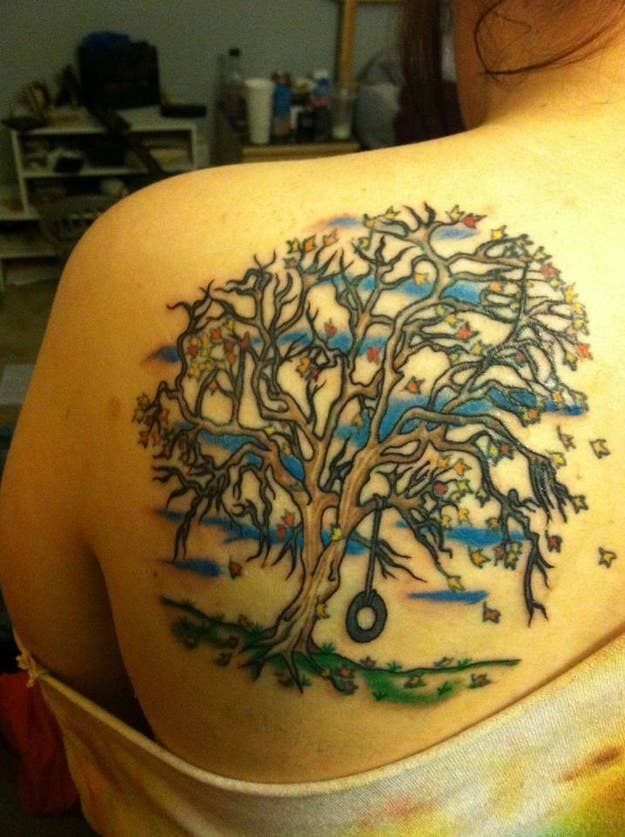 "This is a tattoo I got in honor of my grandfather. I took a photo of a tree that was in my grandparent's backyard and had my artist use that as the source for the tattoo. My grandpa always said that he wanted to put a tire swing in the tree for me, but he became too sick to see it come to fruition. He suffered from cystic fibrosis and passed away after struggling for years." — sarahs7803
13.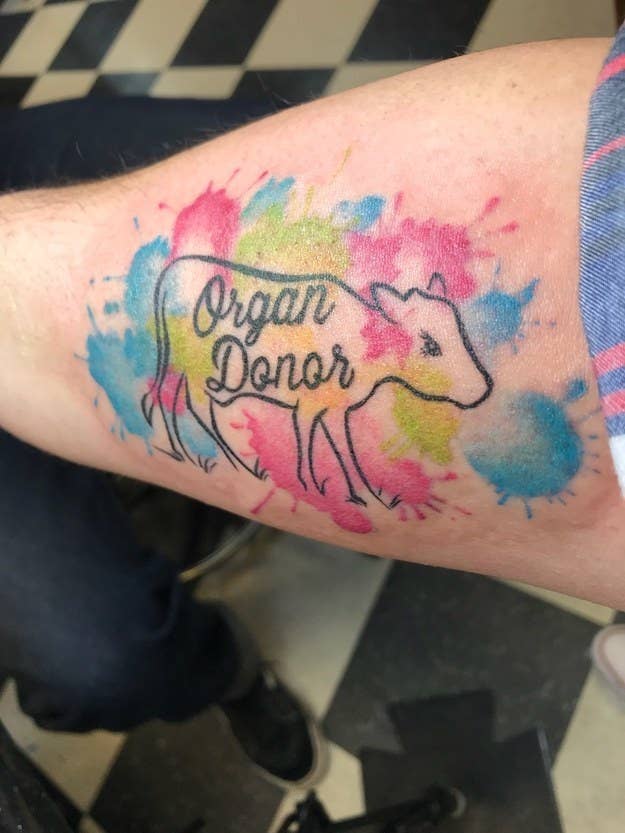 "My older sister passed away very suddenly two years ago from a brain aneurysm. She was only 36 years and left behind two teenage children. While she was on life support they asked if she would want her organs donated. She lived with type one diabetes her whole life, so we never thought this was an option. To our surprise they were able to take her kidneys and lungs along with large amount of tissue (skin, bone, muscle etc.). I knew from that day I wanted to mark on myself that I was going to be an organ donor. The cow was her favourite animal (like obsessed with the things). She was able to help countless people live and someday I hope to follow in her footsteps." — ashleyb48576a12c
14.
"My husband and I had been discussing our tattoo ideas for a while. I'm glad that a wine buzz inspired this design. It has multiple meanings. 1) Jesus fish since we are Jesus people, 2) interlocking to symbolise we are together in everything, and 3) we met on Plenty of Fish, the dating site. I love that these are on the opposite arm and visible when we hold hands." — lyonsemma16
15.
"My mother has fought off melanoma on numerous occasions. She completed treatment for her second diagnosis when I decided to get this tattoo. The silhouette describes a special memory I have with my mom. When I was little she used to hold my hand and count to three and she would twirl me under her arm. Now, I'm too tall (I'm 5'10 and she's 5'2) so when we walk together I twirl her under my arm. The watercolour incorporates our favourite colours." — maddsb
16.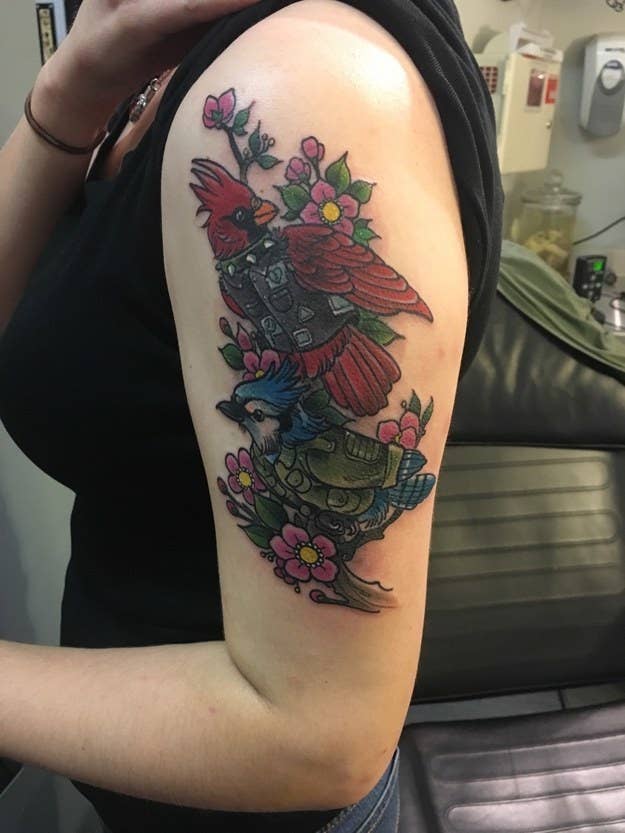 "My brother passed away in January 2017. I don't believe in [reincarnation] but the day after he passed, a cardinal was sitting on his window sill and it refused to move. We could touch it. Then for the next few days, a group of blue birds sat where he used to park his car. My brother wore a black bomber vest with his home made patches all over it and also a green jacket all the time that is why the birds are wearing them." — kannsimmers
17.
"I have 2 significant tattoos. The top one is from after my stepdad passed away and is on the back of my neck. Les Miserables was his favourite show, and 'I Dreamed a Dream' his favourite song from the show. I had my mom write this so I could get the tattoo in bee handwriting, since the 3 of us had a bond over it.
The second is from after my dad passed away. We both love sunflowers and always tried to grow giant tall ones. We also really love the Beatles, and 'Here Comes the Sun' was going to be our father/daughter dance song if I ever got married. I pieced the words together using old letters of his that were left to me." — colleeng47495b9fc
18.
"My parents just celebrated their 45th wedding anniversary. Their love and support through the years has meant everything." — Greta Coalier
19.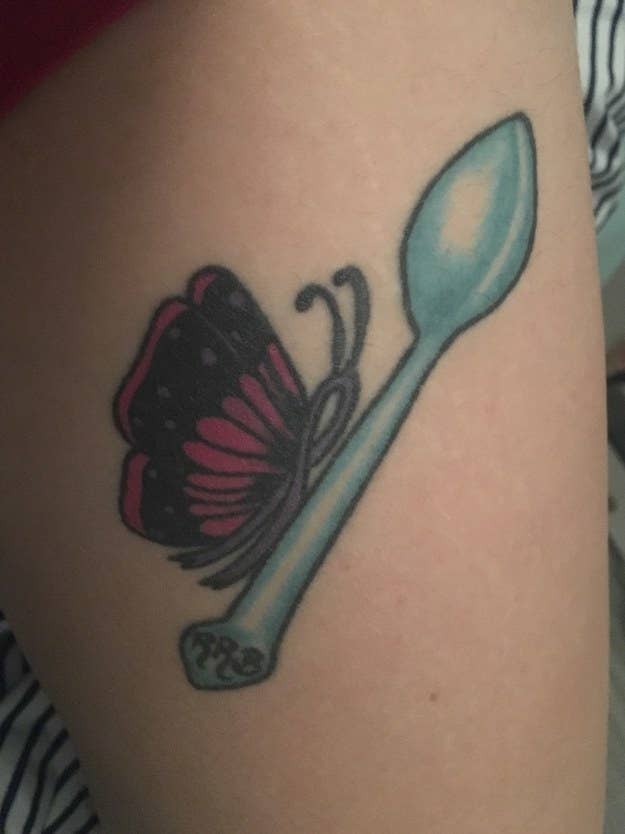 "I was diagnosed with lupus when I was 17. I was devastated. Then I discovered the spoon theory. The spoon theory means that those with any sort of chronic fatigue like lupus or fibromyalgia, have to "count their spoons" or energy levels, and use them wisely. I got this tattoo so I would never run out of spoons, I always have an extra one on hand. The butterfly is the symbol for lupus, due to the butterfly rash many lupus patients, including myself, often have. The tattoo as a whole allows me to be confident about my illness and educate others about it." — rachaelbrooker
20.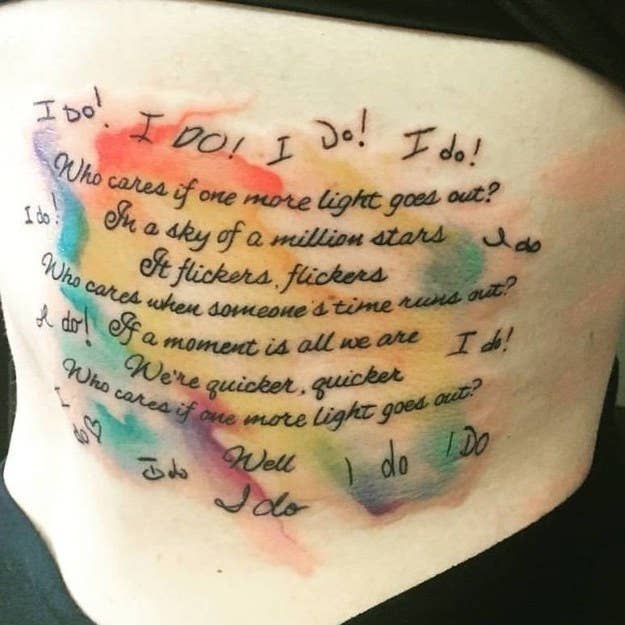 "One of my symptoms of bipolar disorder is having suicidal ideation nearly every day. Though I am thankful that I haven't lost my daily fight, it is still an active battle more often than not. The chorus of Linkin Park's 'One More Light' is one that I regularly repeat to myself, as the rational parts of my brain know that I belong here. I finally opened up about my struggle to close friends and family, and I asked them each to write the words 'I do' to help me always remember that I have love and people who care if my light goes out." — NJDevilsgrrrl
21.
"My sisters and I are all very close, and we had been toying with the idea of getting matching tattoos, but hadn't settled on anything. Two years ago, when one of my sisters left to go to college in another state, we decided to get 'sisters' written in Morse code. I have it on my arm because I carry them with me, my sister has it on her foot because she walks in our footsteps, and when my youngest sister turns 18, she'll get it on her back because we always have her back." — liza4cffc3ca3
22.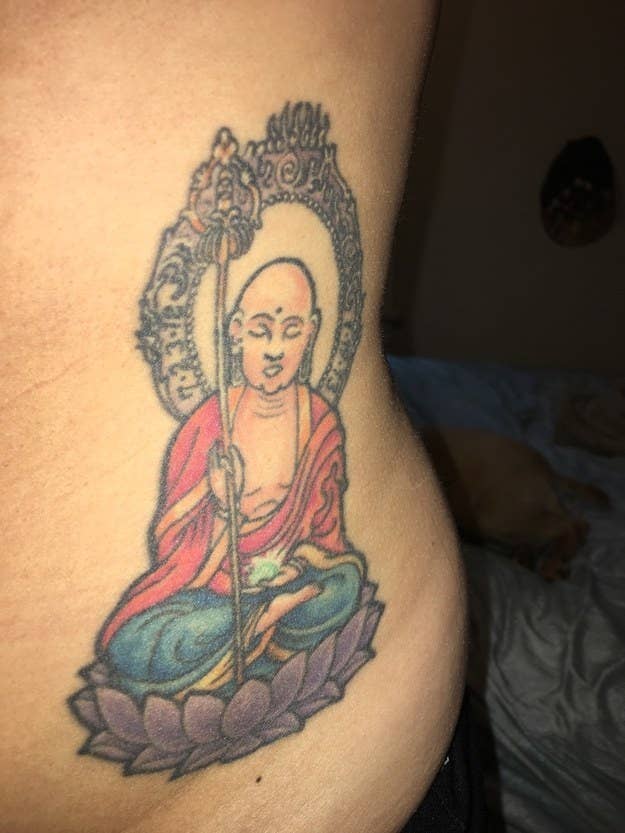 "I had a miscarriage when I was 19, which was incredibly hard to process for a long time. I'd never gotten a tattoo before, and I knew I wanted my first one to be meaningful. After a lot of research, I found the boddhisattva ksitigharba, guardian of the souls of children who died before their parents. The story goes that he keeps them safe until their parents also pass and they can enter heaven together. He's also the protector of travelers, which is a bonus, since a couple years later I became a flight attendant. Now he watches over us both!" — sarif
23.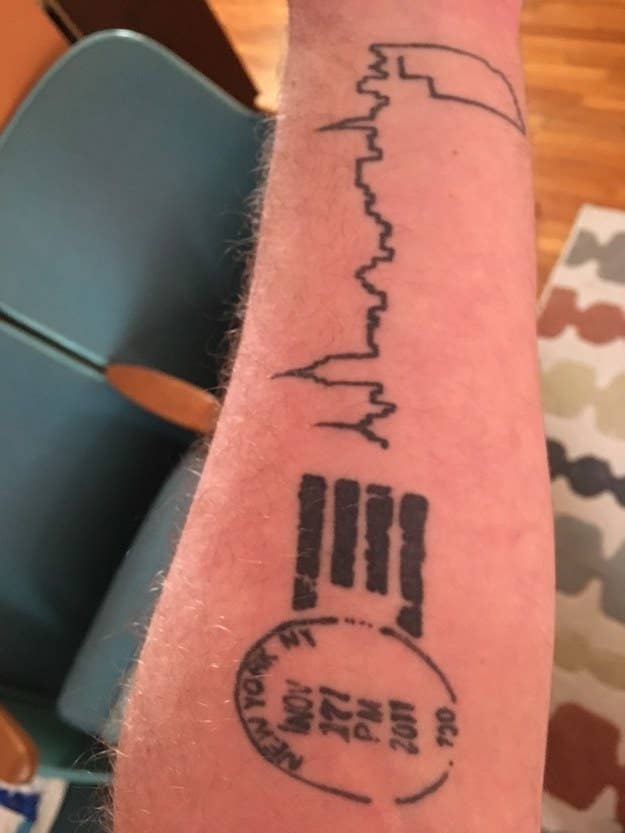 "I was in New York City on a trip when I was diagnosed with HIV. After I found out, I wrote postcards to my friends and family back in Nebraska. About a year after I found out, I saw the postcard I had sent my sister. As soon as I saw the stamp at the top of the postcard, I knew I needed to turn it into a tattoo. I added the skyline of NYC ending in Nebraska on the 5th anniversary of being diagnosed with HIV." — andyd4cff930db
24.
"I got my anxiety breathing structure in memory of all the trials I've gone through fighting with my social anxiety disorder. Any time I felt like I was about to have a panic attack I would just look down at my tattoo and it would help calm me down." — kelseylayneb
25.
"My Granny always had her hair in a perfect bun her entire life, held by at least a dozen hairpins. When she passed away from cancer, my mum, a great believer in guardian angels, would find them in the strangest of places. We have taken an oddly placed hairpin to be a sign of my Gran's presence or simply a good omen. I got this tattooed on me in tribute to two of the strongest women I know. I have 8 tattoos but this seems to be the one everyone asks me about and I never tire of telling people about my Granny." — s43d48601b
26.
"Over the summer, my dad was diagnosed with terminal brain cancer and given just months to live. He drew three symbols on his ankle before he went into surgery and told me they mean 'be open to change', 'create your own destiny', and 'where there's a will there's a way'. When he started chemo, I took him to a tattoo parlour and got him his very first tattoo. He passed away last month a few days before I turned 21, but now I'll always have a piece of him with me to give me some fatherly advice when I need it." — katew466be59dd
27.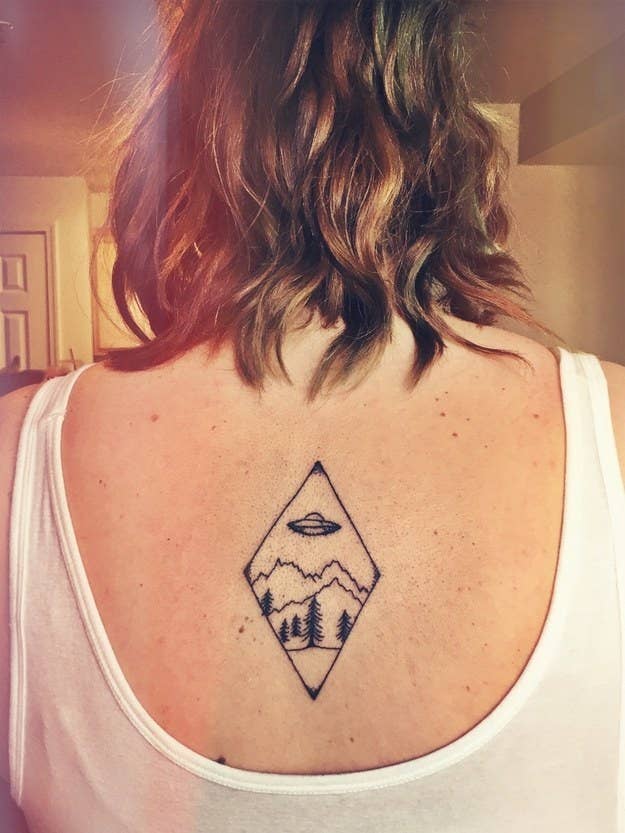 "Oddly, my most sentimental tattoo is my X-Files tattoo. That show, specifically Scully, had a profound impact on my childhood and who I grew up to be. The X Files solidified in my mind that women could be whatever, do whatever, and be as badass as any man could ever be and more." — LainaGrace
28.
"For my 18th birthday I got my first tattoo of The Wizard of Oz. It's been my favourite movie my whole life because it was my grandma's favourite. I always saw myself as a mini her; both artists, singers, actresses, etc. She died when I was 11 and I wanted to memorialise her with art from our favourite musical. 1939 is the year the movie came out and one year after she was born." — kateg43248ff43
29.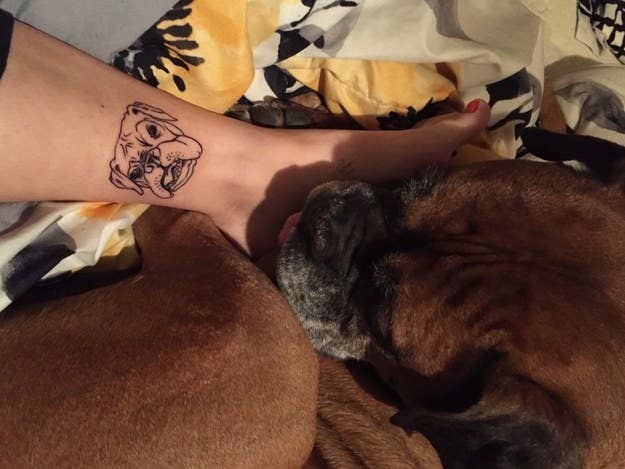 "This is of my dog, who is my best friend and I spent my childhood with. Sadly he's an old boy, and has been diagnosed with cancer, but I'm always have him at my feet now." — amberj4490d2b06
30.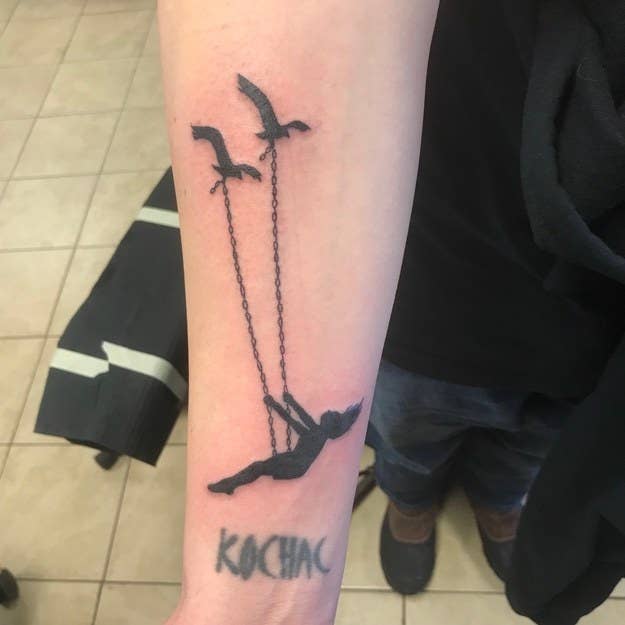 "I lost a dear friend, who passed away on her 41st birthday this past January. I picture her swinging away in the sky giggling and smiling." — andrews4ed60b2a6
31.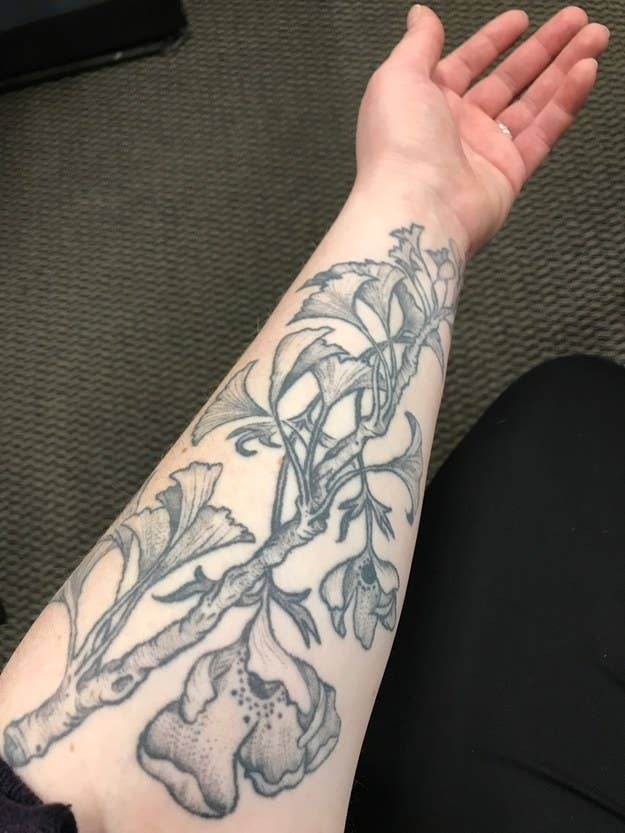 "I got this tattoo two years ago now, about four months after my mom died of breast cancer. The ginkgo tree is one of the oldest tree species in the world, and thrives in all kinds of environments. For that reason, in many cultures, it is a symbol of the connection between generations, and of perseverance in the face of adversity. The anemone flower is one of my very favourites and a symbol of the process of healing *through* grief." — hufflepufflinallday
32.
"I first met my girlfriend about 19 years ago when we were both 16 years old. Since then, I knew I wanted to be with her. Through friend zones and failed marriages to other people, we finally ended up together. I wished for us to be together back when we were kids and now my wish (our wish, since she wanted the same thing the whole time) has finally come true. We got matching tattoos to always keep that wish alive." — mrmoecast
33.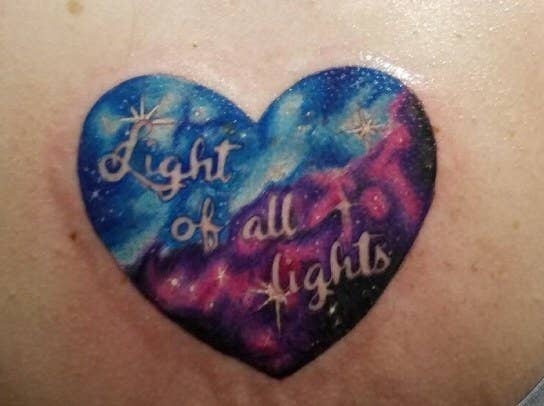 "This tattoo on my back was inspired by a quote I saw for the first time on BuzzFeed! 'There are darknesses in life and there are lights. And you are one the lights. The light of all lights.' My paternal grandfather was very special to me. This tattoo is for him. We both had pain in our lives, moments of darkness. But it's all worth it, remembering that I had a love like that, and I hope it was like that for him too." — tniendorff
Source: buzzfeed.com